Dining
Known for its distinct four seasons, Hokkaido is truly a treasure trove of delicious seasonal ingredients, and the Okhotsk area is one of Hokkaido's largest producers of agricultural and marine produce. Kitchen staff at Lake Saroma Tsuruga Resort carefully scrutinize local produce to find only the absolutely best quality and best tasting ingredients to be used in the hotel's buffet-style, French and Japanese restaurants. Join us to discover a truly unforgettable dining experience backed by amazing views and warm hospitality.
[ NOTICE ]
*At the buffet restaurant, we will strengthen further infection prevention measures so that everyone can enjoy it with confidence as below;

① BUFFET RESTAURANT "La Mer" changed to casual French without tongs.
② For dinner, hors d'oeuvres, soups, fish dishes, meat dishes, and seafood are served on the table. (salad and desserts are prepared a small plateful style on the food display corner)
*For breakfast, Japanese style set meals (sashimi, salad, and dessert are prepared a small plateful style on the food display corner) are served on the table.
③ As a splash prevention measure, a lid or film are set for each plateful dish.
④ We will limit the number of people who can enter the restaurant and will guide you seat with a space between other seats.
⑤ Disposable wet towels and gloves are available.

**Depending on the situation, it may be changed and we may guide you.

In addition to the above, please note that we may change the business contents and operate it with the safety of guests and our staff members as the top priority.

Sorry for this inconvenience.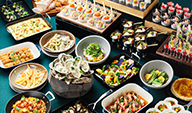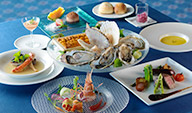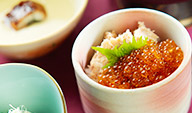 →